Mediworks S391L Firefly WDR Digital Anterior Segment and Meibography Slit Lamp
"Simply capture every key moment"
The Mediworks S390L Firefly is premier tower style slit lamp built with exceptional quality at an affordable price. Featuring built in digital imaging controls, crisp optics ranging from 6x-40x magnification (6x, 10x, 16x, 25x, 40x) on a 5 step drum, LED illumination, a full complement of filters, fixed and variable slit length/apertures and the ability to facilitate accessories such as a Goldmann tonometers.
Description
MediWorks was started in 2004 with the belief that the finest details will make the most meaningful difference in the user experience. The Mediworks team consists of several experienced mechanical, ophthalmic, software, electronic and algorithmic engineers that specialize in the eye care industry. The team works relentlessly to pursue products with a practical design to bring users exceptional quality products. With more than ten years of development, MediWorks has now created a series of ophthalmic diagnostic equipment with extremely reliable quality and breakthrough technology. "We understand that there is still a long way to go for us to become an industry leader, however we will never stop our efforts to reach this goal."
Simple Design + Simple Operation
The design is widely inspired off that of a Firefly. This smart design saves space for doctors compared to other bulky DSLR camera systems attached with an aftermarket beamsplitter. The Firefly is ready to use right out of the box with a handful of preset camera parameters so the user does not need to adjust settings before use.
Software Features
When equipped with the included MediView software, the Mediworks Firefly is capable of Anterior segment imaging and analysis, Meibography imaging, Tear Film breakup time, Tear Meniscus height, Orthokeratology Lens Fitting Assistance, red eye analysis, Keratopathy exposure, and much more. Mediview Software features an intuitive patient management system enabling clinicians to build and edit patient records, clinicians can easily record symptoms and manage the data all the time. Mediview software is compatible with both Windows and MacOS.
Adjustable Aperture
The aperture can be adjusted to 6 different levels to meet a variety of depth and brightness settings.

HDMI output
The built in HDMI output can be used to connect the S390L slit lamp to any compatible monitor. You can then share the live eye examination status simultaneously with patient's, or students for teaching purpose.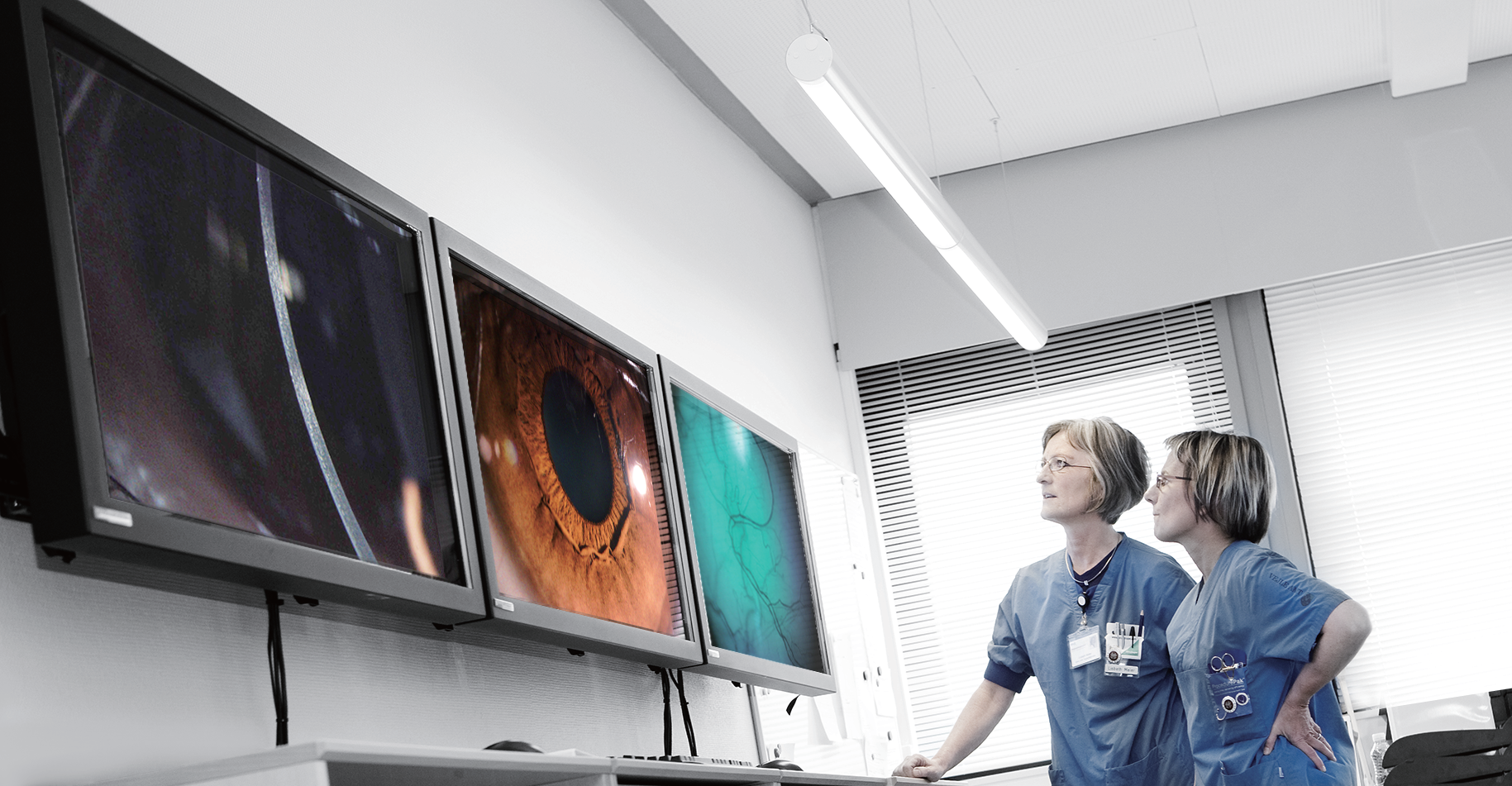 Easier Installation & Quick Capture Button
The S390L Firefly features a compact control panel with built-in power supply making for an extremely clean installation of the slit lamp without leaving behind a mess of cables. Because of such, there is no need to find space to install a chunky power box. There is a convenient button on the control panel that enables you to shoot photos quickly and easily. Once you've captured a suitable photo to describe the pathology, simply press the capture button once more and the image will be saved to the patients record in the Mediview database.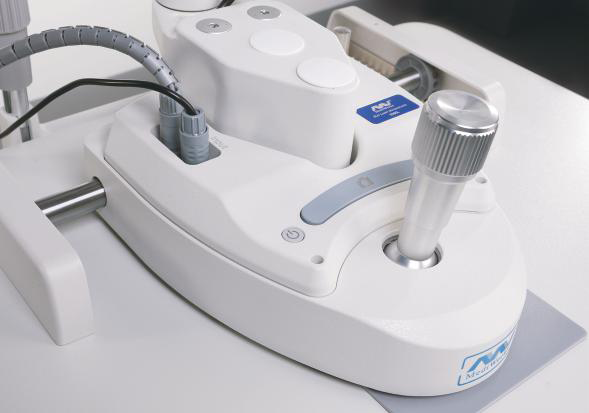 Coaxial Illuminator
The new LED background illuminator is positioned coaxially to the microscope without getting in the way of the rest of the slit lamps. It provides an adjustable circular beam of light to enhance the digital capturing effect.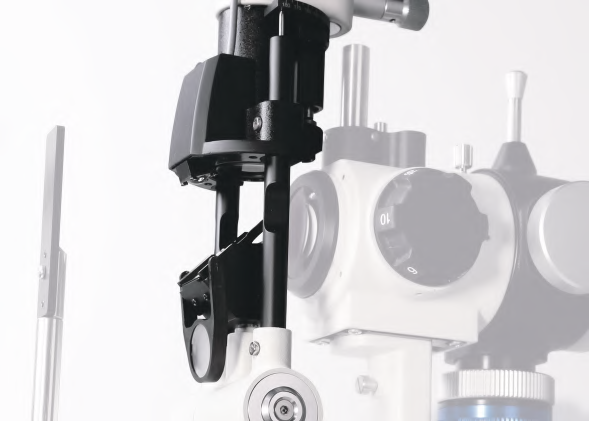 Less Cables with Extra USB Port
Thanks to the built in control panel, there is no longer a need for exposed cables outside the microscope. Additionally the control panel features an extra USB port to conveniently charge other-medical devices simultaneously.
Optical resolution increased by 40%
The newly improved high quality oculars make for an extraordinary resolution that exceeds the requirements of any doctor allowing for better accuracy and safer diagnostic results.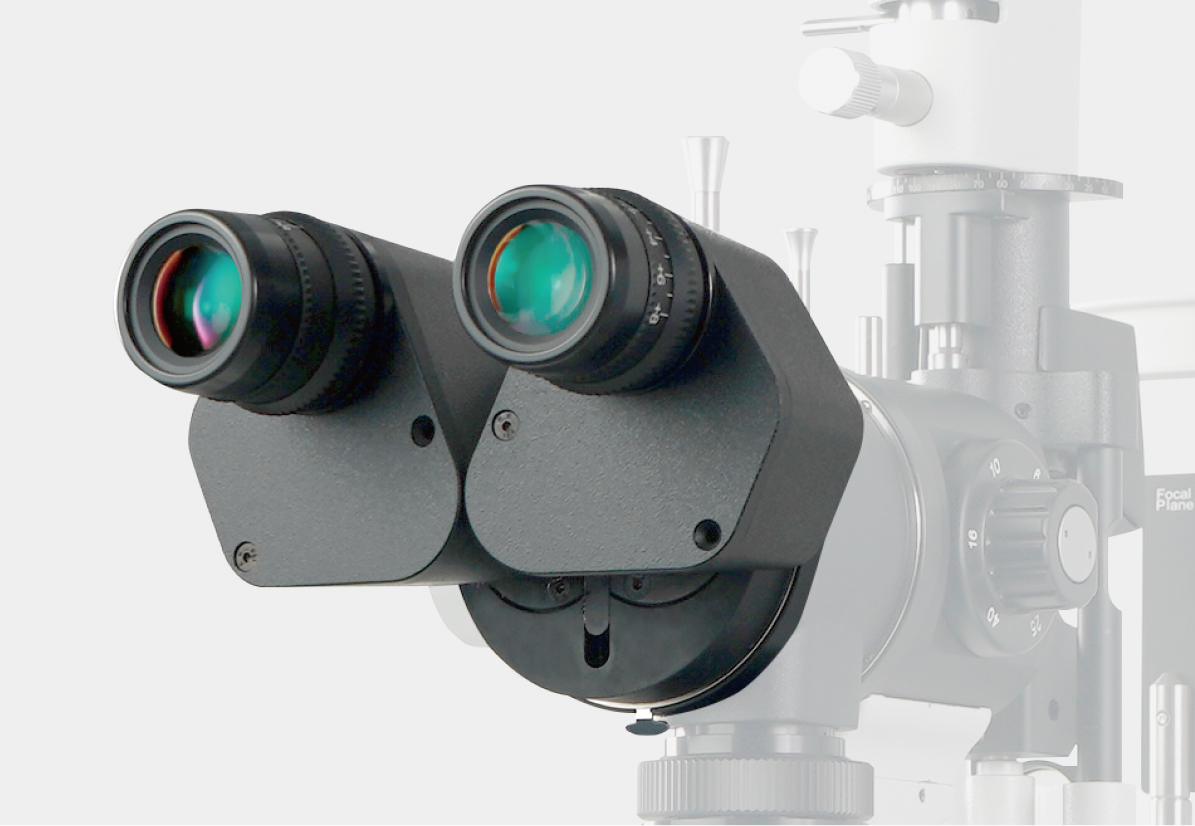 Ultra-sensitive camera
1/1.8" Sensor          2592 x 1944                    25fps



1/4" Sensor             1280 x 960                      12fps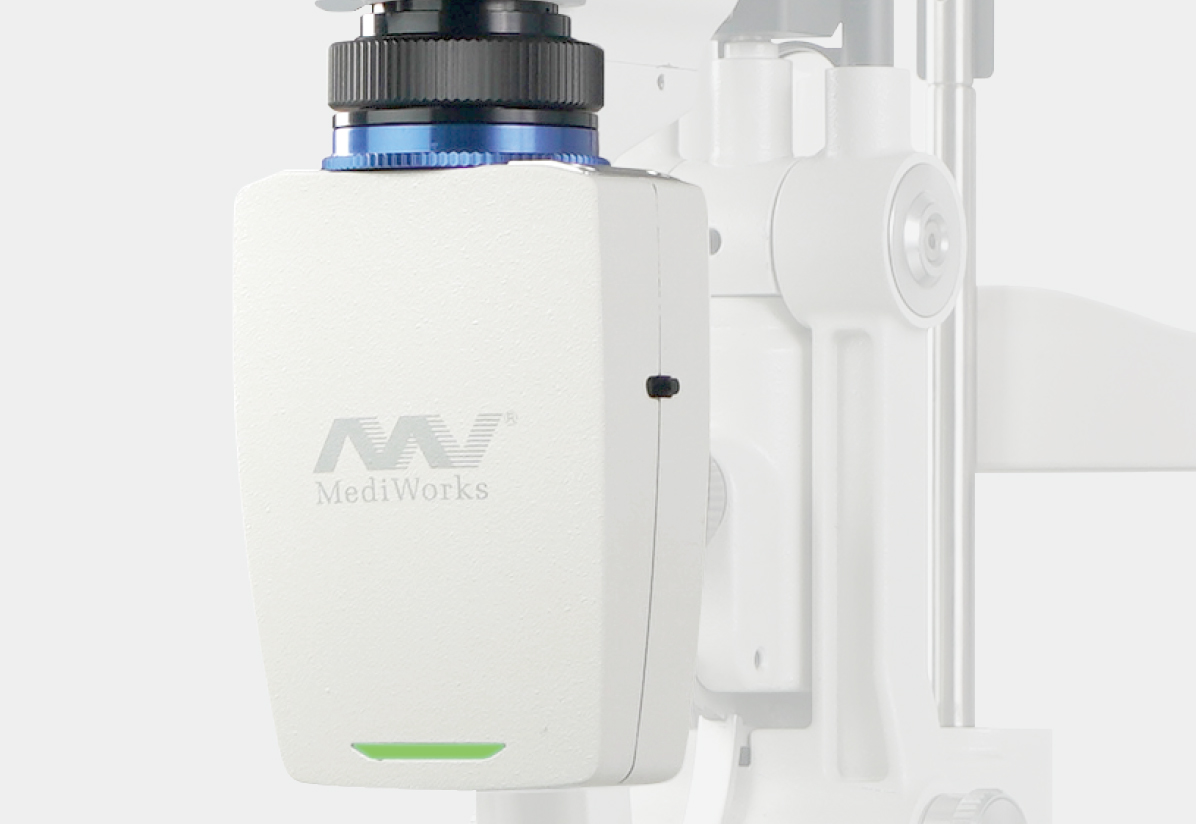 The Meibomian glands examination
The unique built in infrared light source module allows for the observation of the patient's Meibomian glands. This helps in understanding the absence of a patient's Meibomian glands, and thus determines the lesion of the patient's dry eye syndrome.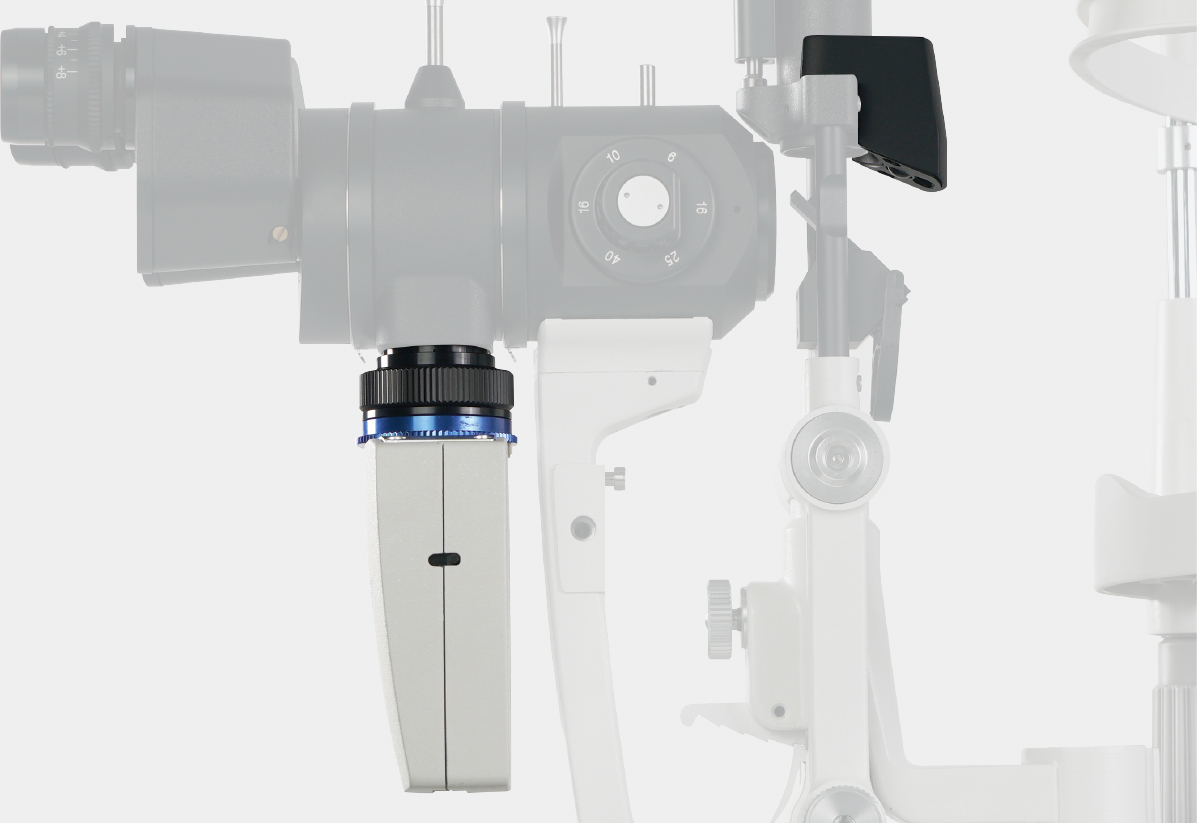 Built-in yellow filter
The built-in yellow filter helps to get a clear tissue image with enhanced contrast. The yellow filter is also necessary for the orthokeratology lenses fitting.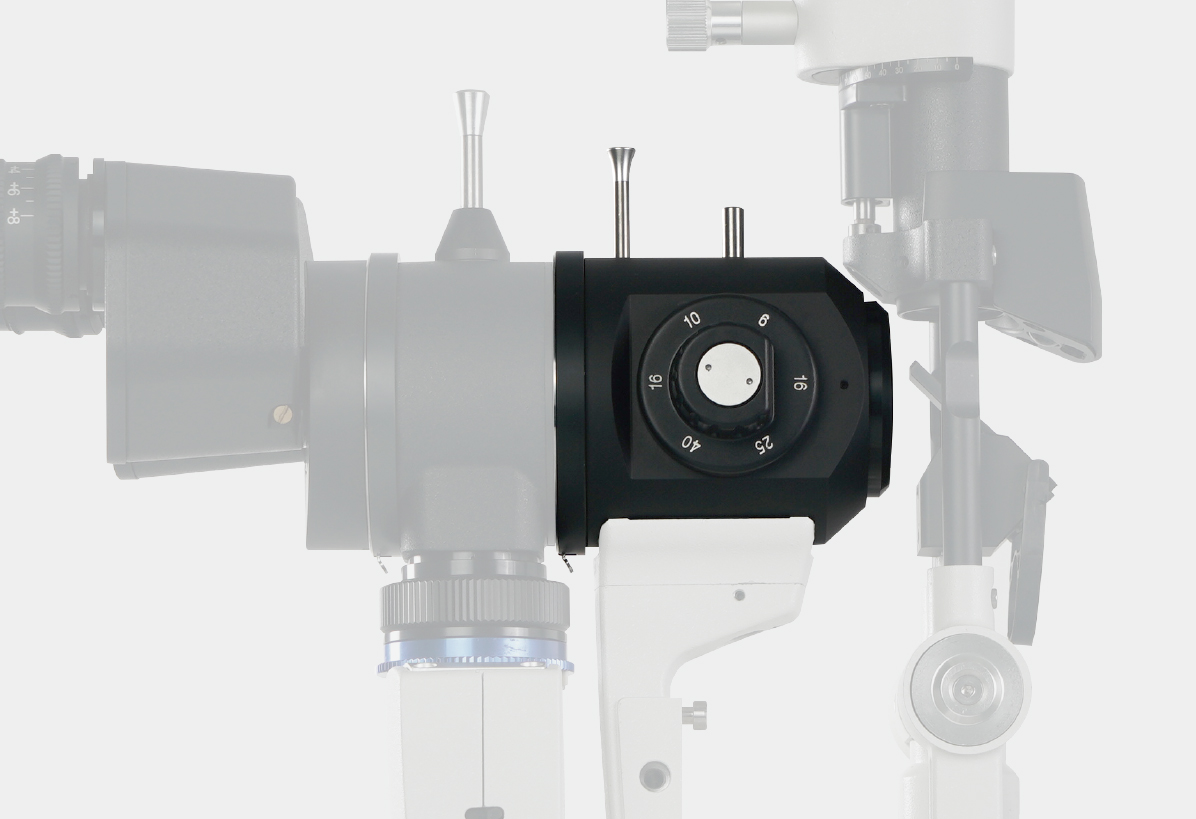 Microscope Specifications

---

Microscope:
Galilean Type
Magnification Change:
Revolving Drum 5 steps
Total Magnification:
6X, 10X, 16X, 25X, 40X
Eyepieces:
12.5X
Angle between Eyepieces:
13°
Pupillary Adjustment:
52 mm-78 mm
Diopter Adjustment:
±8D
Field of View:
Ø36.2mm, Ø22.3mm, Ø14mm, Ø8.9mm, Ø5.6mm
Slit Illumination:

---

Slit Width:
0~14 mm continuous  (slit becomes a circle at 14 mm)
Slit Length:
1~14 mm continuous
Aperture Diameter:
Φ14 mm, Φ10 mm, Φ5 mm, Φ3 mm,  Φ2 mm, Φ1 mm, Φ0.2 mm
Slit Angle:
0°~180°
Slit Inclination:
5°, 10°, 15°, 20°
Filters:
Heat-absorbing filter, ND filter, Red-free filter, Cobalt Blue filter,Yellow filter built-in
Lamp:
3V LED Module
Luminance:
≥150KLX