Mediworks D-130 Dry Eye Diagnostic System
Fast, Comprehensive, and Easy to use Dry Eye Diagnostics straight out of the comfort of your exam lane.
The Mediworks D-130 Corneal Analyzer attaches directly to your Mediworks S391 Firefly Slit Lamp expanding its capabilities and allowing the measurement of 7 new dry eye exams.
Description
Mediworks D-130 Dry Eye Diagnostic Device.
The D-130 functions as an excellent diagnostic device right out of your exam lane. The D-130 dry eye diagnostic system enhances accurate diagnoses and earlier intervention, providing you guidance for customized treatment for each patient.
Platform for Comprehensive Ocular Surface Examination:
– Dry eye diagnosis/Anterior Segment Photography/Lens fitting/
Patient management/Telemedicine
– Guided examination: Providing a comprehensive report covering 7 dry eye diagnoses utilizing non-invasive examinations for quantitative data.
– Fully-automatic Firefly digital module, easy operation without the need to change parameter settings.
– High quality optics and built-in yellow filter efficiently increase the accuracy of lens fittings.
– Smart patient management system (DICOM supported).

Due to various causes of Dry Eye Disease, a traditional eye examination is often difficult to find out the cause and quantify for the diagnosis and treatment options.
Mediworks D-130 Dry Eye Diagnostic System can provide a standardized examination and quantified causes for the evaluation of Dry Eye Disease.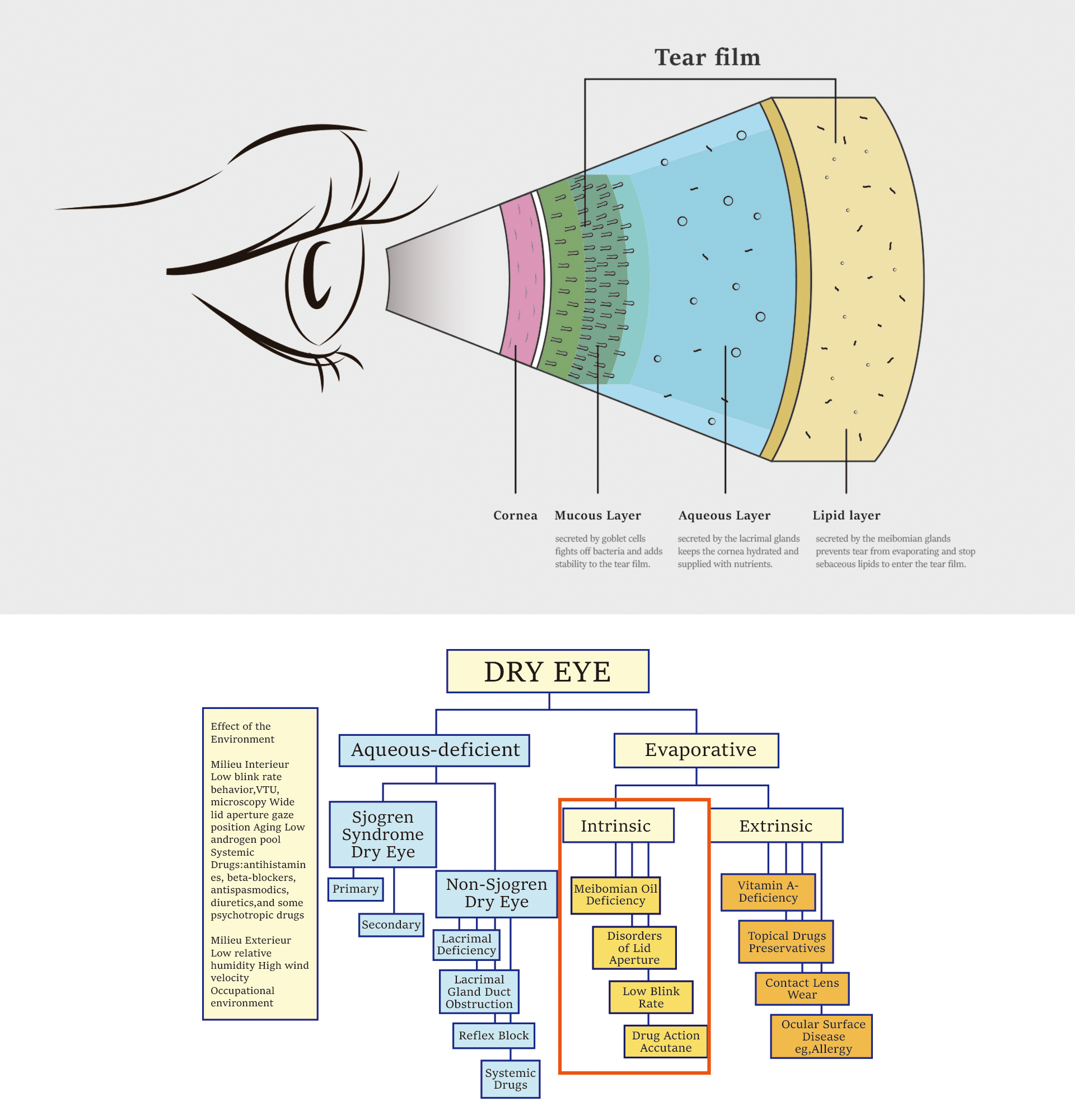 AI Non-Invasive Break Up Time:
After capturing a video, Mediviews AI will automatically generates results for both NIBUT and Tear Meniscus Height.
The AI identifies the break-up area and analyzes NIBUT automatically, the fully automated analysis system provides efficient quantified evaluation for the overall stability of the tear film. The AI will automatically acquire the initial break up time, the average break up time, the break up distribution, the break up area percentage curve, and the time distribution.
– Grade 0: Normal, First Rupture Time: 10 s Average Rupture Time: 14 s
– Grade 1: Warning, First Rupture Time: 6-9 s Average Rupture Time: 7-13 s
– Grade 2: Dry eye, First Rupture Time: 5 s Average Rupture Time: 7 s
The Mediworks D-130 adopts a Placido ring projection system with self-emitting visible light to conduct NIBUT examination, the examination scope measures up to an 8mm cornea diameter which brings much more comprehensive diagnostic outcome.
The non-invasive examination avoids the irritation brought to the patient through the traditional method of Cornea Sodium Fluorescein Staining.

AI Non-Invasive Tear Meniscus Height
AI identification system automatically depicts the Tear Meniscus area and measures the tear height automatically (Normal: ≥0.2mm).
Evaluate tear secretion amount and continuity objectively. More efficient and less irritation compared with the traditional Schirmer's test.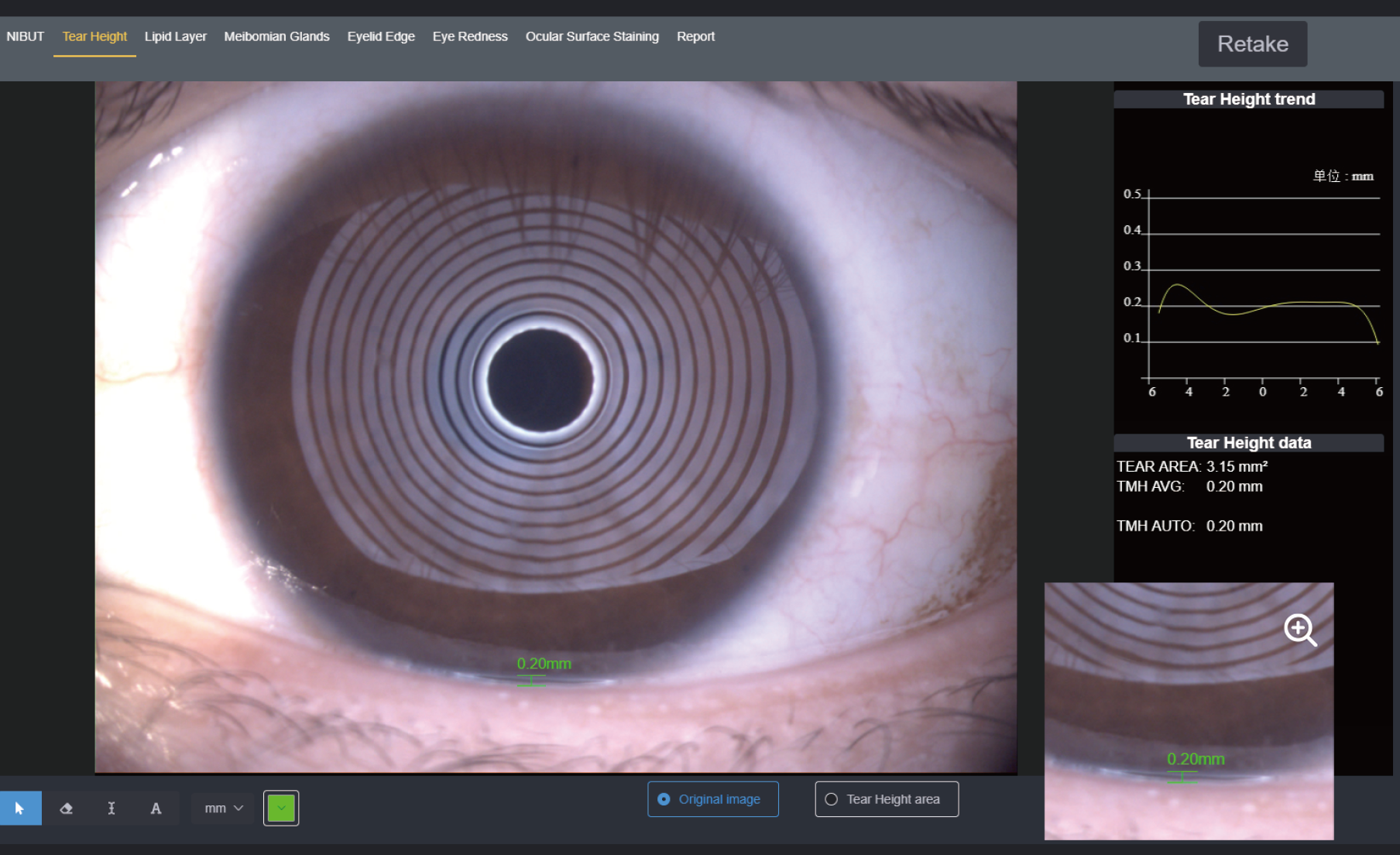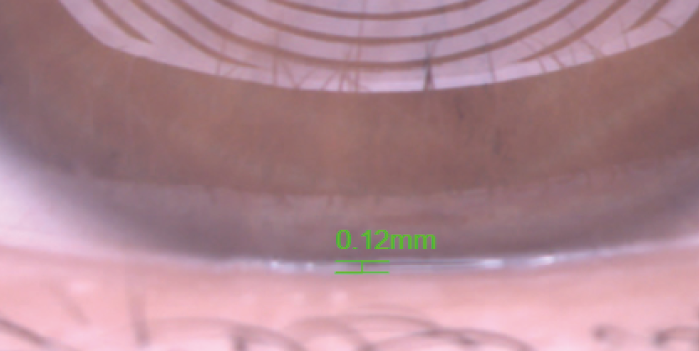 (Insufficient tear secretion)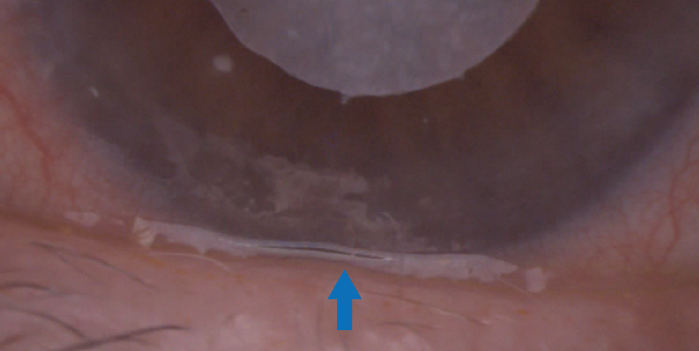 (Abnormal dynamics and conjunctival chalasis)
Evaluation of Meibomian Glands Function:
Capture 3 separate images with one click (Original, Enhanced, Results)
The AI identification system automatically analyzes meibomian glands loss caused by meibomian glands dysfunction with precise and quantified diagnosis results.
The built-in infrared lighting system helps doctors obtain a larger scope of the meibomian glands.
Adjustable depth of field makes the glands more prominent and distinguishable against the background.
– Grade 0: No Meibomian Glands Loss
– Grade 1: Meibomian Glands Loss < 1/3
– Grade 2: Meibomian Glands Loss 1/3-2/3
– Grade 3: Meibomian Glands Loss >2/3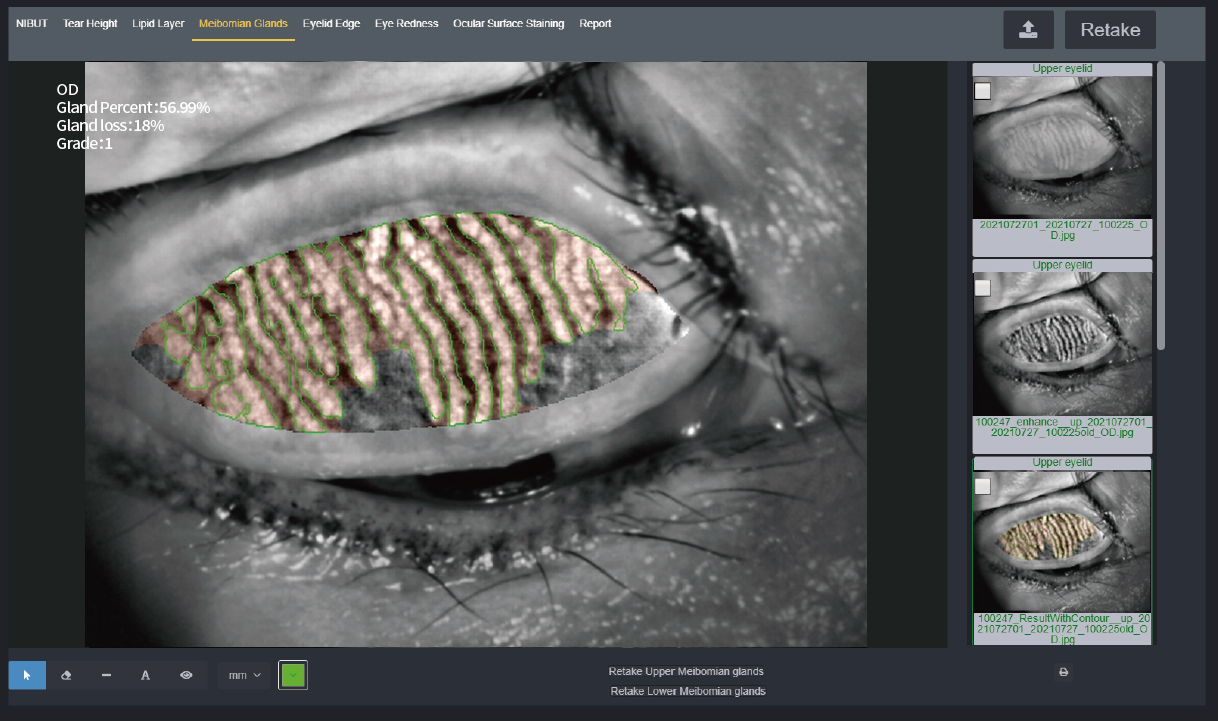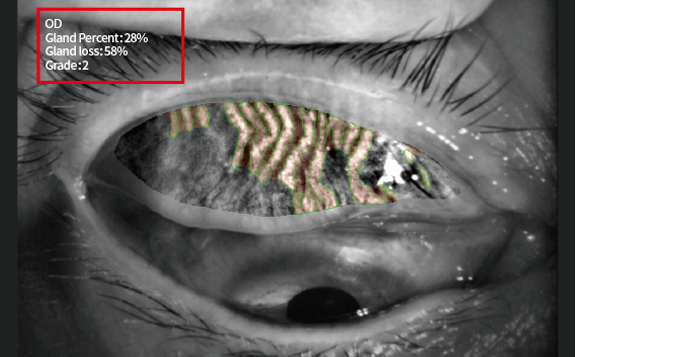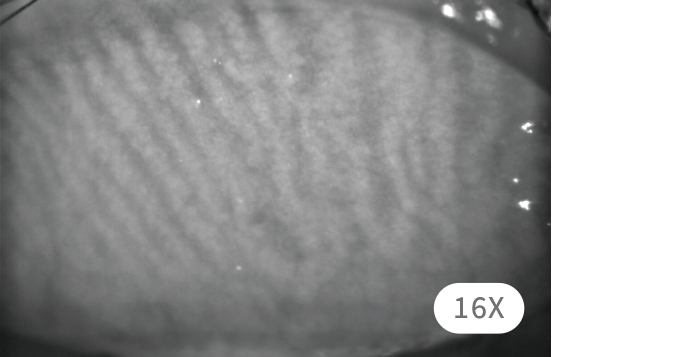 (Image of Meibomian Glands under high-magnification)
Lipid Layer Thickness:
The D-130's built in white ring projection system ensures a larger examination area compared to the Placido rings. By recording a video of the Lipid Layer thickness and comparing results to our built in normative database it is helpful for judging the patients potential MGD.
– Grade 1: <30
– Grade 2: 30-60
– Grade 3: 60-80
– Grade 4: >80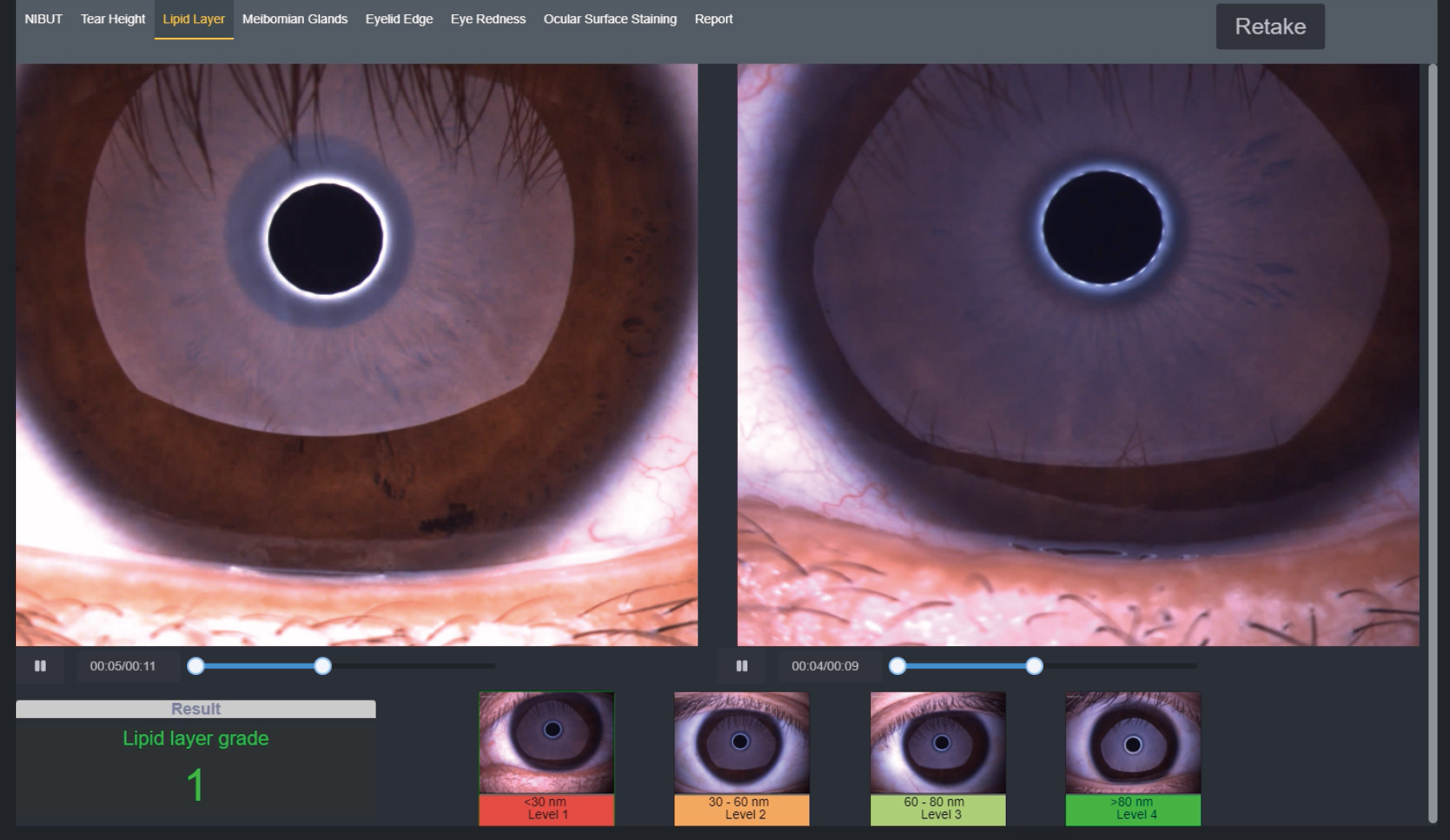 Eyelid Margin:
The professional design of the Mediworks optical system can provide HD digital images that remains clear and sharp even when zoomed in, this allows the D-130 to meet the examination requirements of the overall shape of the eyelids margin and its slight change.
Normal including (Ophthalmic embolism bright, transparent)
Mild including (gland cap crown – glandular prominent)
Moderate including (glandular fat plug – disappearance of the marginal mucosa, hyperkeratosis)
Severe including (uneven margins, disappearance of the meibomian glands – posterior margin Blunt round, thickening, new blood)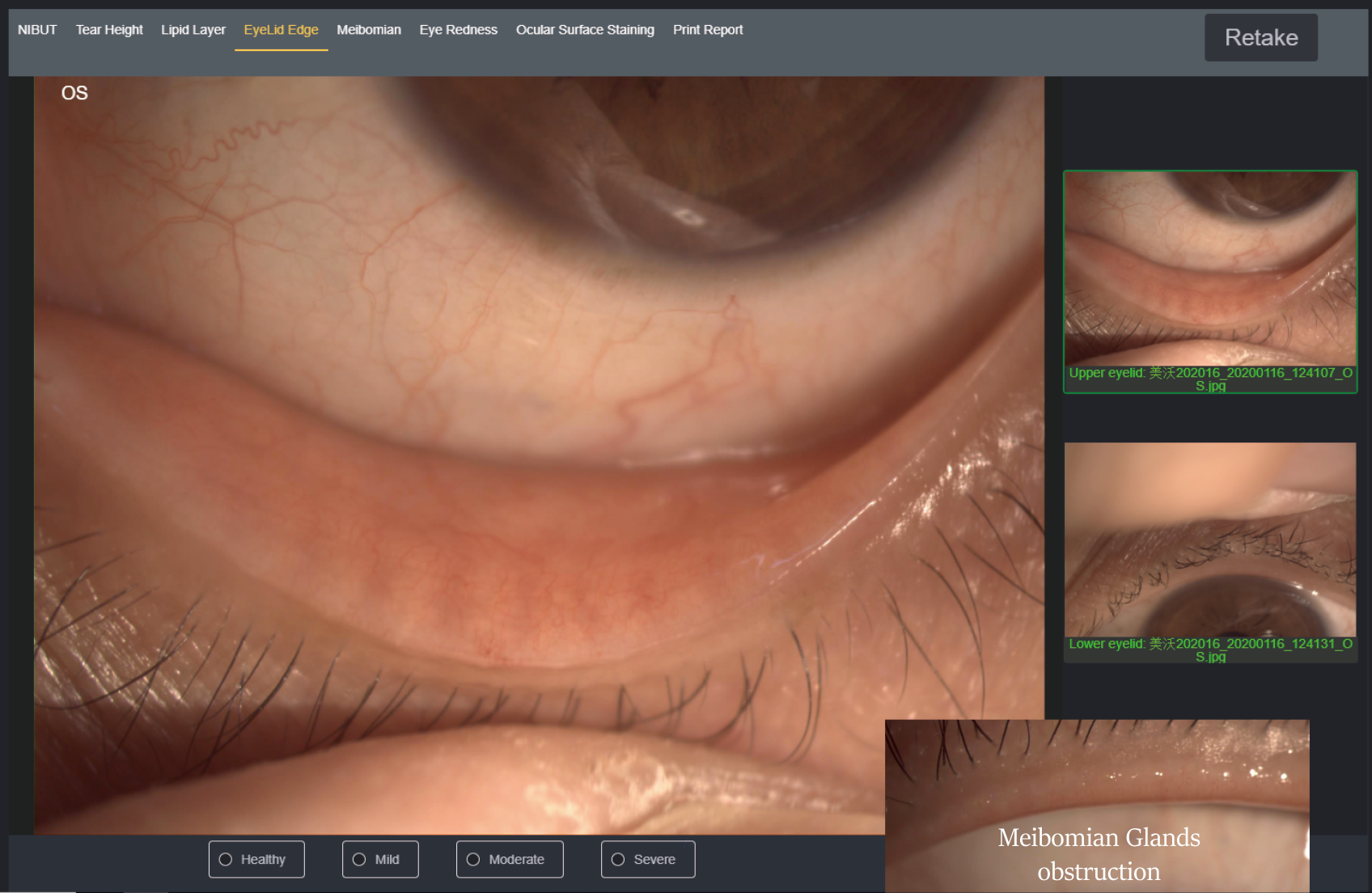 AI Analysis of Conjunctival Hyperemia:
Normal: ≤2 Abnormal: >2
The unique AI identification system can help identify and calculate percentages of conjunctival congestionand ciliary congestion to evaluate severity of eye congestion.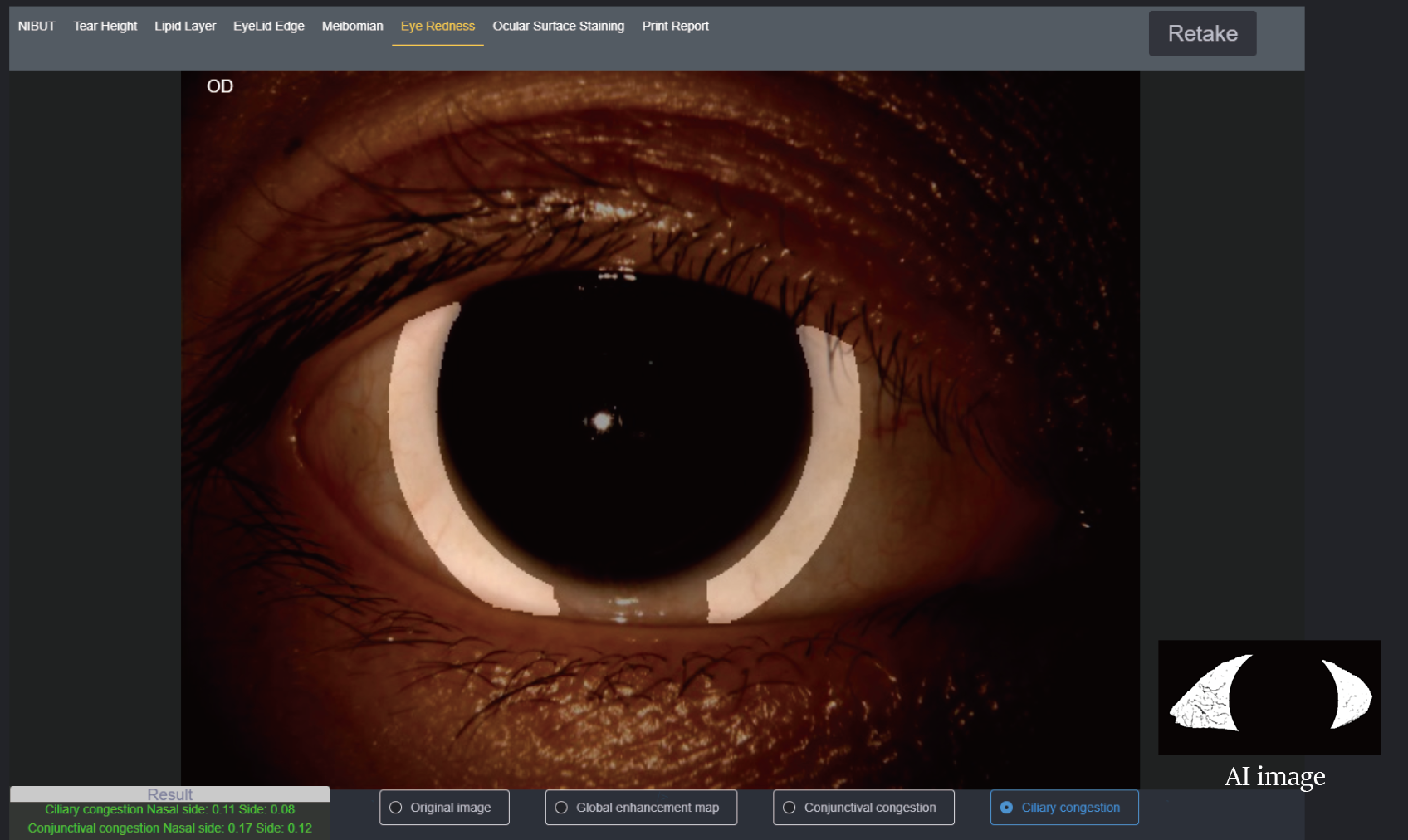 Cornea Sodium Fluorescein Staining:
Effectively increases positive rate of early corneal epithelial staining using the built-in yellow filter paired with the cobalt-blue filter to make the corneal sodium fluorescein images more clear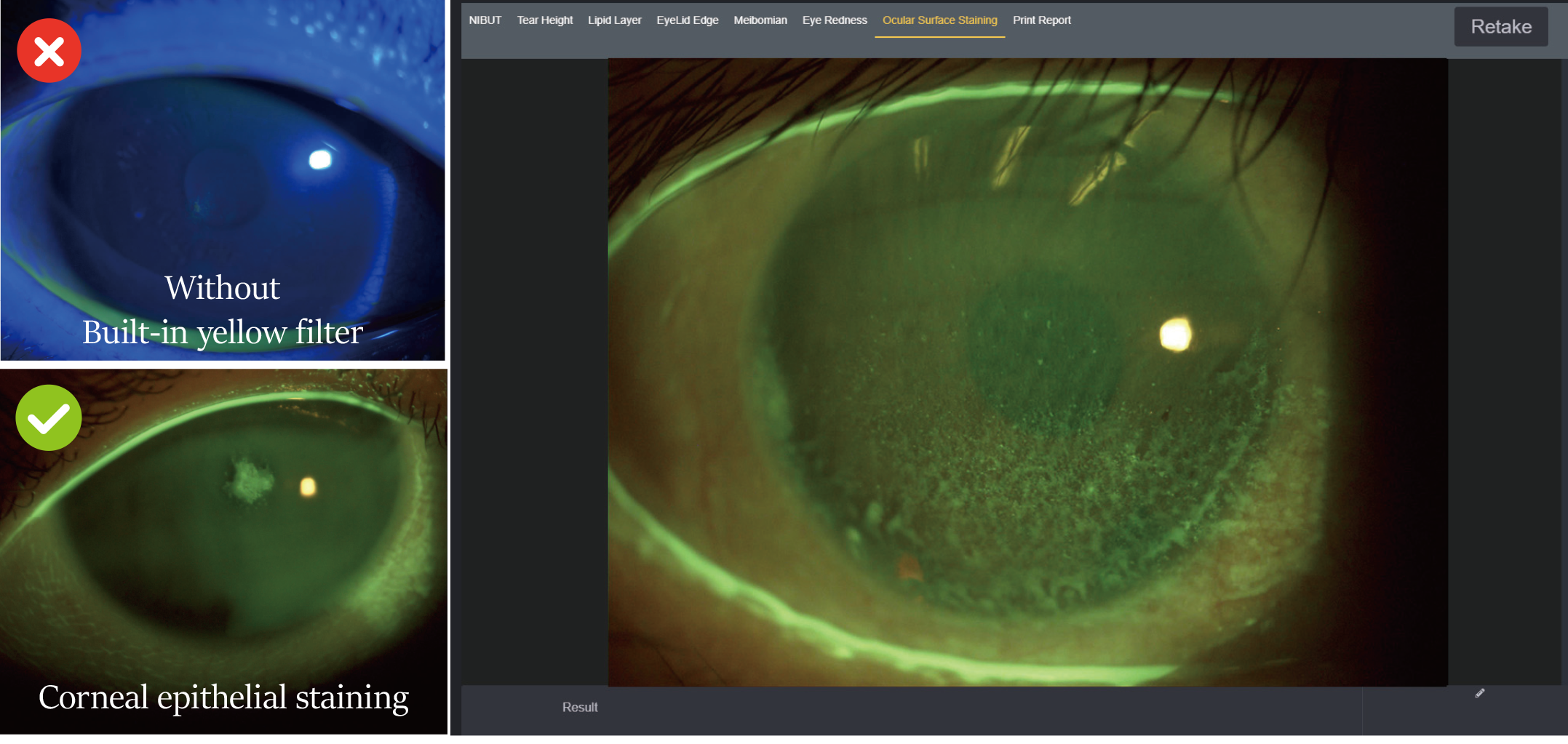 Comprehensive Dry Eye Evaluation Report
Convenient Medical Consultation on Dry Eye Syndrome in an easy to read PDF.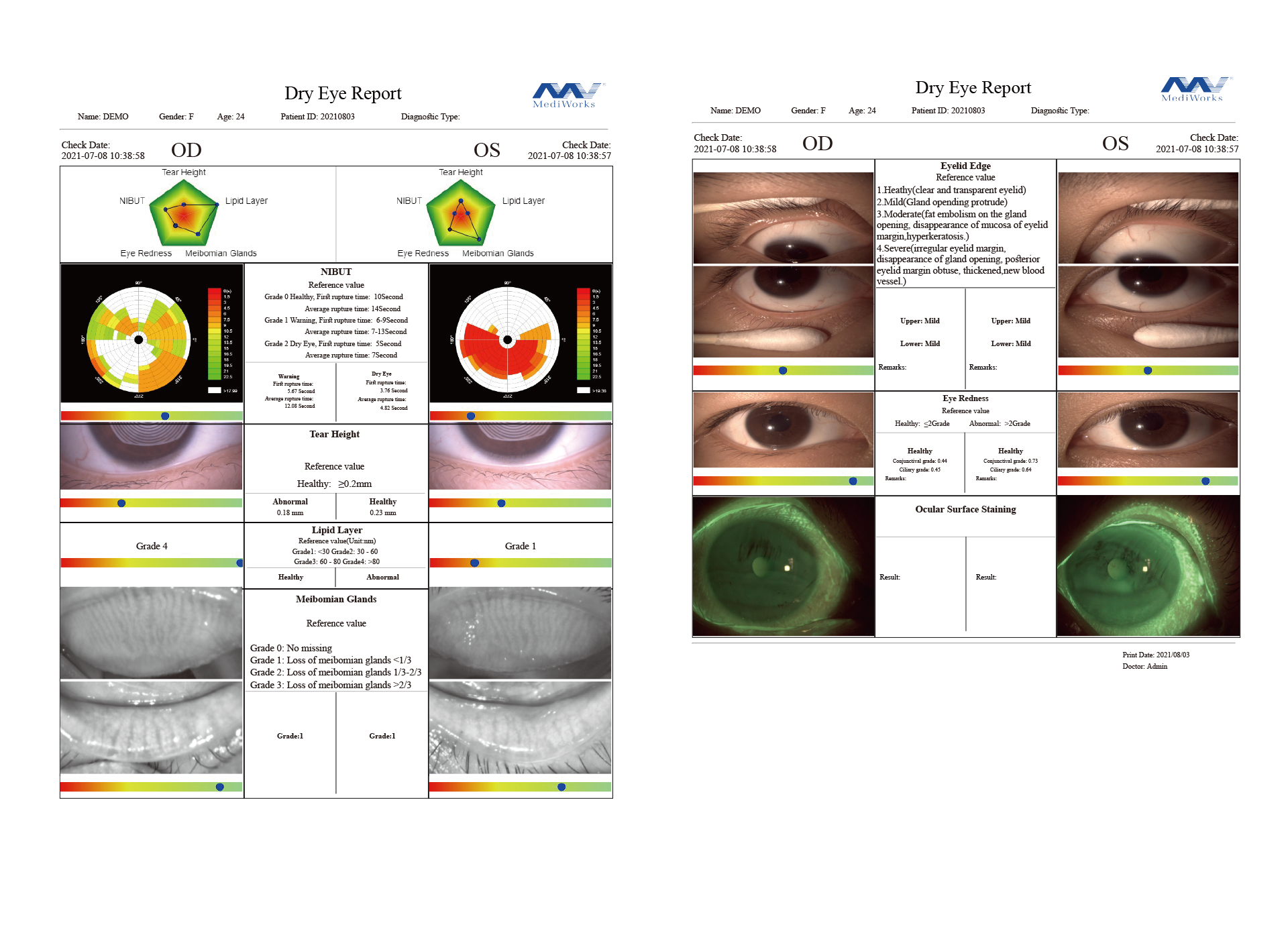 Smart Patient Management system: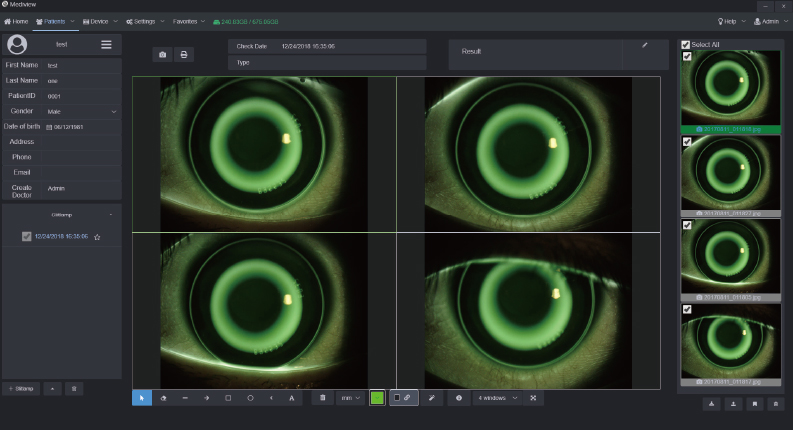 Comparison of Patient records:
The Smart Patient Management system supports repeated comparison among medical records to help doctors develop customized treatment plans and evaluate treatments over a period of time.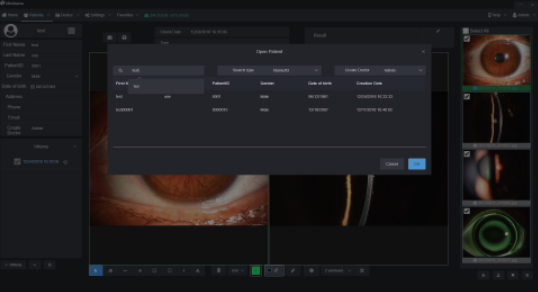 The Mediview Patient Management system allows doctors to build and edit medical records, note patients' situation via the software, and quickly search the patient case.
Microscope
Microscope Type
Galilean Type
Magnification Change
Revolving Drum 5 steps
Total Magnification
6.3X, 10X, 16X, 25X, 40X
Optical Resolution
2700·N lp/mm (200 lp/mm)
Eyepieces
12.5X
Angle between Eyepieces
10°
Pupillary Adjustment
52mm-80mm
Diopter Adjustment
-8D~+8D
Field of View
Ø36.2mm, Ø22.3mm, Ø14mm, Ø8.9mm, Ø5.7mm
Slit Illumination
Slit Width
0~14mm continuous (slit becomes a circle at 14mm)
Slit Length
1~14mm continuous
Aperture Diameters
Ø14mm, Ø10mm, Ø5mm, Ø3mm, Ø2mm, Ø1mm, Ø0.2mm
Slit Angle
0°~180°
Slit Inclination
5°, 10°, 15°, 20°
Filters
Heat-absorbing filter, ND filter, Red-free filter, Cobalt blue filter,Yellow filter built-in
Lamp
LED
Luminance
≥150klx
Power Supply
Input Voltage
100V~240V
Input Frequency
50Hz/60Hz
Rated current
1.2A
Output Voltage
3V LED, Fixation 15V
System Specifications
Digital Module
Automatic exposure/ Automatic white balance / Adjustable depth of field and aperture
Image Sensor
1/1.8-inch sensor / 2.4μm pixel / 5.0M Pixels
Photo Resolution
2592 x 1944
Frame of Video
25fps
Video Formats
MP4 H.264
Exposure Mode
Automatic exposure
Transmission Interface
USB
Packaging
Dimension
740mm x 450mm x 530mm(L/W/H)
Gross weight
23kg
Net weight
17kg
Computer Specifications
PC configuration
i5-10500T 8G memory 25GB SSD+1TB storage
Display
1920×1080 23.8inch
PC system
Windows 10
| AI Non-Invasive Tear Break Up Time | AI Non-Invasive Tear Meniscus Height |
| --- | --- |
| AI identify the break-up area | AI identification system |
| Automatic first break up time | Automatic Non-Invasive Tear Meniscus Height |
| Automatic average break up time | Optical magnification |
| Visible light Placido ring projection(23 ring) | Electronic amplification |
| AI Conjunctival Hyperemia Analysis | Cornea Sodium Fluorescein Staining |
| --- | --- |
| AI identification system | Eye surface damage report |
| Automatic conjunctival congestion percentages | Built-in yellow filter |
| Automatic ciliary congestions percentages | Cobalt blue filter |
| AI Meibomian Glands Function Evaluation | Lipid Layer Thickness |
| --- | --- |
| AI identify Meibomian glands | Template comparison evaluation |
| Automatic Meibomian glands loss classification | Visible light White ring projection system |
Eyelid Margin
Dry Eye Examination Report
Optical magnification
Automatic analysis report
Electronic amplification